COMING UP AT
THE ORIENTAL SALOON
Karaoke with Jim & C.C. Karaoke!
Get ready to unleash your inner superstar with Jim and C.C. Karaoke! Join us for an evening of pure musical delight, where you can sing the night away to your heart's content. Our karaoke show is renowned as the best in town, offering an exceptional blend of fun and music that will keep you entertained all night long. 
Sundays, Wednesdays, Thursdays & Fridays 7- 11pm
Make it a habit to drop by on Mondays for Movie Night! Delight in delectable food, drinks and classic movies.
Attention, local residents! We cordially invite you to partake in an exhilarating game night in our midst. Prepare to revel in the camaraderie as you engage in friendly competition. Join us and elevate your evening with a delightful blend of games and libations.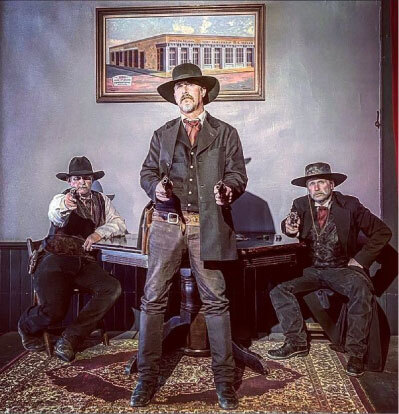 Family-friendly indoor gunfight shows daily, karaoke four nights a week, the best live bands EVERY SATURDAY NIGHT, and the coldest beer in town! It's always a GREAT time to visit the famous Oriental Saloon in the heart of Tombstone, Arizona! 
Contact us with any questions you might have about planning your family's visit to Tombstone, and be sure to check out the Discover Tombstone website with info on the museums, shops, shows, & Old West landmarks that will make your next visit memorable!

Want to learn more about the haunts and history of The Town Too Tough to Die? We recommend the Gunfighter & Ghost Tour, which will tell you about the mining, the two big fires, the gunslingers, and, of course, the paranormal history of Tombstone, Arizona! Get tickets early, this tour always sells out!
WE'LL SEE YOU SOON IN HISTORIC TOMBSTONE, ARIZONA!